'Dear Mr Rees, May we begin by thanking you you for the surgery on xxxx's knee. After the initial concern that she had to have the full [ACL] operation, we are so pleased with initial outcomes and the speed with which she appears to be recovering. We would like to convey our great appreciation for the work that you have done and the excellent care that xxxx has received from both yourself and your operating theatre colleagues as well as the physiotherapist that we have seen in recent weeks. It is good to have received such an excellent service.'
HG – Halstead, Essex  October 2018
'Hello Mr Rees, You probably won't remember me, (you must see an awful lot of knees!), this is just a short note to express my heartfelt thanks to you and your team who completed both my total knee replacements recently (my right one beginning of June last year and my left one in March this year).
To say it is life changing is an understatement! Both ops were very successful and even [the Physiotherapist] was impressed!
You explained to me when we first met that the operation you would do would only be a part of the cure, the rest was up to me. I took you at your word, and I have lost two and a half stone, and I attend a local gym three times a week working on cardiac fitness and building up the leg muscles. I'm even starting to enjoy it. The results of our joint (excuse the pun) efforts is that I can now walk completely without pain, and I have recently walked over 7 miles on a regular basis, I can go up and down stairs, and I am working on being able to cycle again! I feel a new man!
Once again, many thanks, keep up the good work!'
IG – Chelmsford, Essex  August 2018
'Dear Mr Rees, I can't thank you enough for replacing both my knees although I know I was very young for the surgery. I had got to the point I had stopped living my life and work had got so hard. My first knee you replaced in May 2016 and the second in November 2016. It has made so much difference to my life, even my clients have commented on how they have the old 'me' back! I didn't know how much the pain must have shown. Everyone (all the nurses, physiotherapists, anaesthetist and everyone else at Springfield hospital) were great. Thank you so much. I hope you and your family enjoy your cake …'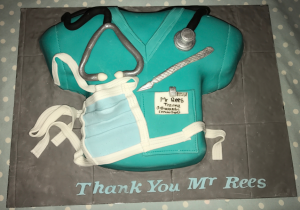 TS – Braintree, Essex  March 2017
'Dear Mr Rees, It is now almost a year since you and your team carried out an ACL reconstruction on my knee and I just wanted to let you know what a difference it has made to my quality of life. I wasn't the average age for this operation (53) but the rehab has gone well and I feel great!
It makes such a difference being able to run down a slope, or jump off a step, go to a barn dance or have a game of ping-pong without worrying about my knee giving way. The scar is really neat and is hardly noticeable and I am continuing to work on building up my muscles, using the exercises and the advice given to me by the lovely physio team.
So thanks again – i just wish I'd gone for it (the surgery) soon after I had the injury rather than 10 years and two arthroscopy operations for cartilage damage later. If you get other 'older' patients with ACL ruptures then I would definitely recommend that they have the op, if they have good motivation to do the rehab. With best wishes …'
KP – Great Baddow, Essex   January 2017
'Dear Mr Rees, I would like to thank you from the bottom of my heart for fixing my knees; you have made a big difference to my life. I feel that I have my life back and that means the world to me to be able to walk and play with my grandchildren. Thank you again…'
GC – Chelmsford, Essex   September 2016
'Dear Mr Rees, Thank you for operating on my left knee (TKR) on June 16th. I should have written before, so, just wanted to acknowledge your great skill and expertise, and to thank you for dealing with my challenges. I am making good progress and managing to control pain more effectively this time. hope to see you soon for follow-up. Yours sincerely …'
TC – Rayleigh, Essex   August 2016
'Dear Mr Rees, Thank you so much for sorting out my troublesome knee. The operation (touch wood!) has been a welcomed success and the service I received from you and your colleagues was first class. You have a practice to be proud of and I am very grateful for your help with my knee. Hope I don't see you again!!'
PA – Little Waltham, Essex   May 2016
'Mr Rees, Thank you so much for all your care and attention during my knee replacement..'
PH – Burnham-on-Crouch , Essex  March 2016
'Hello Mr Chris Rees, I would like to say a huge thank you for the work that you and your team performed on my left knee. I am more than grateful. Thank you kindly …'
DS – Chelmsford, Essex   June 2015
'Dear Mr Rees, I have a new knee!! THANK YOU. I am having my clips removed tomorrow, before seeing the physiotherapist, so I thought I would leave this note for you there. Thank you so much for performing the surgery and helping me walk properly again. Yours sincerely …'
CH – Braintree, Essex   March 2015
'Dear Mr Rees (God), This has been a long time coming but better late than never. Thank you to you, your surgical team, ward team and physio team for looking after me so well. Thank you, Thank you, Thank you. A small token of my appreciation. Sincerely yours…'
RP – Witham, Essex   March 2015
'Today I believe is the signing off on my (right knee) operation. So, I just wanted to again express my thanks through you to the team you lead in the theatre, to the ward staff, liaison nurses and physiotherapists who follow the process to its very successful conclusion. The left knee is also in problems….if it is done, I would dearly like the same main players – surgeon and anaesthetist!….
The main course – the knee! I think it's brilliant! I've been hanging around with a silly smile on my face for a week. I think techniques must have changed in the past 6 years from my experience – so far!
For all of that a big, warm hearted thanks to you all. Give yourselves a big round of applause. (Why didn't you do both of them?)'
JB – Maldon, Essex   February 2015
'Thank you for your care and expertise in providing me with a new hip on 24th October. I am recovering nicely and I hoped to thank you personally on 11th December. However that was not to be. Hope you enjoy your Christmas. Sincerely…'
RC – Chelmsford, Essex   January 2015
'Dear Mr Rees, Just a short note again to thank you for all you have done for me. You went above and beyond the call of duty. After operating on me for a knee replacement in Feb 2013, you arranged an MRI scan on my spine, went through this with me and my husband and then referred me to Professor John Dowell who operated on me in August. I feel I am getting on well… For the first time in eight years, I am out of terrible pain. My knee is fantastic – I forget I have a knee replacement – thank you. You and the Professor are gifted surgeons. Best wishes for Christmas and a Happy & Healthy New Year. Kind regards …'
BB – Ongar, Essex   December 2014
'On the 24th July 2014, I was admitted, under care of surgeon Mr Rees, to John Ray Ward at Broomfield Hospital for a left hip joint replacement. During my four night stay prior to discharge on the 28th, I would like to please place on record, my utmost appreciation and pay tribute for the courtesy, kindness and consideration extended to me by all members of the ward staff (including those members of other supporting disciplines and departments) at all levels irrespective of status, involved in my care and treatment. Collectively, they were a great team. In my opinion their conduct, willing help and assistance were exemplary.'
DP – Great Leighs, Essex   August 2014
'The gifts were only a small token of my appreciation of you and your theatre team's skill, kindness and care. I am really grateful for your surgical expertise which has resulted in my having a painless knee with good movement and I am quite amazed at how my very bowed leg is now straight! On my second visit to the Physiotherapist, five weeks after the op, I was given the thumbs up to try walking backwards and it was wonderful (with great care) to foxtrot and waltz round the floor again!'
WJ – Great Waltham, Essex   August 2014
'I came to see you regarding my right knee ACL deficiency and damage I'd sustained to my meniscus. You carried out an arthroscopy on my right knee on 17th June to improve matters. I am very pleased with how quickly I 've recovered as I'm now back to work after 2 weeks and have a good bend and stretch and less instability when I twist and turn. I am not feeling any discomfort when I walk about and up and down stairs now. Thank you …'
KP – Chelmsford, Essex   July 2014
'I would like to thank Dr Rees for his help and expertise, I am really happy with the results of the operation and I feel that everything regarding my knee is going the right way. I never had a chance to thank the lovely anaesthetist who was present for my operation …'
CL – Great Dunmow, Essex   June 2014
'I cannot thank you enough for what you have done for me. I know I was a very high risk to have surgery and yet you took me on. You have given me a new chance in life to walk again without all the awful pain that I suffered for years on my knee. To feel the freedom in my leg is something I never, ever thought would happen. Foy years I have had to have some sort of support on my knee from ankle to thigh. It's heaven to be free from that!
I thank you for all the hard work you did in getting my leg straight, something I thought I would never see. I have to keep looking at it to see it really happened!
Thank you to all who worked with you as a team, a wonderful team that helped to give me my new knee. Many, many thanks to your special anaesthetist, who did a great job to relax me and made me feel safe. Thank you to all the nurses who helped look after me, especially the Liaison Nurses who were there if I had any worries. Many years ago, I had my first joint surgery, when I was 11 years old at Black Notley Hospital. My surgeon was Mr Moore, then a few years later, more surgery by Mr Waddington. So it was quite something for me to go to the 'Waddington-Moore' Seminar room prior to my surgery. Now I have another special surgeon on my list of many, you Mr Rees.
So I thank you Mr Rees for all you have done for me, I really appreciate it all. Thank you for my 'new knee' which will be well used …'
AD – Witham, Essex   May 2014
'Mr Rees, Thank you for being the best surgeon / consultant and for helping me by sorting my knee so quickly …'
KT – Witham, Essex   May 2014
'I am writing to you to let you know how very much I appreciate all you have done for me – arranging an MRI scan on my spine, taking your valuable time looking at it and referring me to ….. – thank you. Thank you also for the finest care I received during and following my surgery for total knee replacement – fantastic to be out of pain. The kindness I received from you and your staff was the best. Thank you …'
BB – Ongar, Essex   April 2014
'Just wanted to say a big 'Thank You'. Yourself and your team are brilliant. I feel as if I had first class treatment. I am mending well after keyhole surgery on my knee two weeks ago. Thank you as well for being understanding about my religious beliefs. It really helps when the whole patient is treated …'
VS – Chelmsford, Essex   March 2014
'One year ago, you replaced my right knee. You had replaced my left knee the previous year. Both operations have been wildly successful. With care, there is nothing I cannot do now, that I could do before my knees degenerated. You have given me back my life. I feel very fortunate to have been put under the care of you and your team at Broomfield. A huge 'thank you' from a very grateful …'
AB – Ingatestone, Essex   February 2014
'Excellent treatment and care. Well pleased with my new knee. Many thanks …'
PC – Chelmsford, Essex   January 2014
'Mr. Rees is a brilliant orthopaedic surgeon, he made me feel completely at ease about my procedure, explaining in detail what would take place during the operation in the replacement of my knee and all what was required of me to achieve my recovery as quickly as possible. He apologised more than once for the delay in seeing me during my outpatient appointment time. He also reassured me that should I have any worries which concerned me to contact him immediately …'
Unknown patient (I Want Great Care website entry)   October 2013
'Mr Rees was exceptionally polite and personable. He seemed to genuinely care about my son's feelings and future wellbeing, and made plenty of time to listen and discuss any areas of concern. I didn't feel like I was wasting his precious time and if anything, he was over-cautious by seeing us for regular check-ups until he was absolutely happy. My son received excellent care under Mr Rees' team and for that I am extremely grateful …'
Unknown carer (I Want Great Care website entry)   October 2013
'This is a very much overdue letter from my point of view. I have gone to write it many times, but I thought it may be wrong for your personal privacy. But here I am, Mr Rees, I just had to thank you personally for the great job you did on my knee. And I really do thank you. It has been great these past few weeks, as you are well aware, it was very swollen and bruised on all parts of my leg. And of course very painful, but I stuck with it all the instructions and help offered and I am quite amazed at how well it has done.
Nearly all the bruising has gone, the leg is still a bit hard, my ankle and foot are still a bit tight but the knee has progressed day by day. It is only slightly swollen, the scar is supreme and the movement is wonderful. I know it isn't all over yet, but I just had to pass on my grateful thanks to you for a wonderful restoration of my knee (no pain).
I would like to have thanked you personally, but of course that's not possible, but I do sincerely thank you for my return of a good and reliable knee (no pain). I have to attend a physiotherapy appointment on Thursday with physiotherapist Sue Partridge and her team and I will be happy to pass on my thanks to them for all the help and guidance they gave me, full marks for all the nurses on the wards, my compliments to each and all.
But, to finish my letter of thanks, I must say once again Mr Rees I am very grateful to you for my return to fitness and that I have my mobility once more. Thank you for a wonderful knee replacement and return to normal life.
Yours gratefully…'
JT – Braintree, Essex   July 2013
'Dear Medical Director (Broomfield Hospital), I am writing this as a patient and want to express my gratitude and appreciation for all the kindness and excellent care I received after my knee injury and surgery which I had under the care of Mr Rees and his team as well as Dr Wou and the MRI department. With kind regards and best wishes. Yours sincerely…'
Consultant Physician – Chelmsford, Essex   December 2012